Sungloss Marble Terrazzo Polishing Team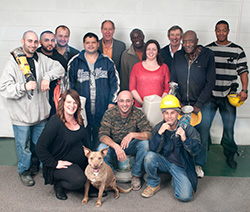 Specializing in the polishing, wet grinding - which creates no dust-cleaning, honing and sealing of natural stone surfaces in the Chicagoland area.
A member of the Marble Institute of America, National Association of the Remodeling Industry, and the Better Business Bureau, among others, Sungloss is committed to the professional servicing of stone surfaces such as walls, countertops, floors and facades for commercial, residential and post-construction customers.
More About Sungloss »
Sungloss Marble Co. News & Advice
There are many different kinds of surfaces in the world – to walk on, to hold things up ( walls ) and to beautify a bldg. ( facades ). " Curve balls " in our industry can fool even the most experienced professional …
Porcelain originally was clay heated to a certain temp, mixed with Granite and hardened/ beautified to fine articles in China where it became so popular worldwide.  It has " morphed " into a Clay heated process with just about anything added to change its beautification. Once very hard and durable, it has – in some instances – lost its durability.  Pre-cast Limestone is really more of a concrete substance with more Limestone than unusual added to give it that" limestoney look "….sometimes also treated with acids on the surface to accentuate the graininess.  Epoxy Terrazzo is just that – the traditional cement based Terrazzo is really mixed with an epoxy substance to make the entire contents a bit harder, possibly more durable (depending on the circumstances) but also restored
and refinished much differently than the traditional.  No seal needed.
Keep an eye out for the " differences " by carefully noting texture, composition in the specifications, and , of course, the history of the customer's experience with the same.
---
Sungloss Marble Restoration Company has been serving Chicagoland for over 20 years, in the business of natural stone restoration. We've served our clients' needs anywhere from in Federal building or condominium and hotel lobbies, private residences, or construction sites, to name a few. Our customers include homeowners, banks, businesses, developers, villages, or even State or Federal agencies.
Our customers in the Chicagoland suburbs of Evanston, Oakbrook, Wilmette, Riverforest, and Northbrook will be happy to know, we are running a special from now until August 16th: any customer of these Chicagoland suburbs who contracts with Sungloss and then fills out the paper (or online) Customer Satisfaction Survey will receive a free 1 liter bottle of P24 Neutral Rinseless Stone Cleaner! P24 is our highest-recommended cleaning-maintenance product for all natural stone, and it has been a best-seller ever since we've been in business.
If you are new to Sungloss Marble Restoration Company, or even if you are a returning customer, we hope you think of us when choosing a marble restoration contractor. We work very hard to satisfy our customers whether they need natural stone polishing, cleaning, honing, or sealing.
---
The recent flooding in the Western, Southwestern and Northern Suburbs of Chicago – causing a Federal emergency re both lower and 1st level damages – also included lots of marble, travertine, terrazzo and granite floors…
It reminded me of " water absorption" of stone floors and counters, the measurement of the same and the sealing of stone by good craftsmen with good seals and good processes.  Too often a consumer – commercial or residential- simply says: " has my floor, counters been sealed..?" And if the answer is " yes" they are relieved without knowing how, what , how many and by whom, with what process; and , by the way, what is the water absorption factor of my marble ( or granite, etc.)?? Water absorption measure is simply the difference between what the stone sample weighs when saturated with water ( preferably distilled ) vs. when it is then heated over 24 hrs in an oven to dry completely… Usually three tests are done to show a mean or average of the measures. E.g. Travertine – that hot spring and fissured, holy hybrid of Limestone-Marble has a water absorption of app. 1.50% whereas some of the really great Granites for water repellent show and average of .18% or .20 %, much lower absorbency.  Those Granites are like Baltic Brown and African Red, New Imperial.  So – the consumer needs to think more often and harder about choices of stone for showers, entries, counters and areas possibly subject to flooding..aside from the under-floor which means so very much…
Stone is not always acting like " water off a duck's back"!!
---