Sungloss Marble Terrazzo Polishing Team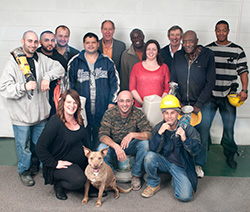 Specializing in the polishing, wet grinding - which creates no dust-cleaning, honing and sealing of natural stone surfaces in the Chicagoland area.
A member of the Marble Institute of America, National Association of the Remodeling Industry, and the Better Business Bureau, among others, Sungloss is committed to the professional servicing of stone surfaces such as walls, countertops, floors and facades for commercial, residential and post-construction customers.
More About Sungloss »
Sungloss Marble Co. News & Advice
EVANSTON, ILLINOIS – Historical properties, buildings and gardens - Some with Limestone, Granite, marble or Slate..
Marble, and, at times, Granite, has been restored at historic properties to make them look " better" but not TOO GOOD so as to take their " antiquing and historical look " away.  That is very important in the restoration process that Sungloss Marble and other good restoration companies strive for.
Among the properties that Sungloss Marble Co. has helped restore in Evanston, IL is one with Black , cement base Terrazzo on Michigan Avenue ( not Chicago's Mag Mile Michigan !) which took several men several days to fully restore, now "beautiful "!  Join the restoration revival!
---
That time of year is quickly approaching. The first snow is always pretty until the snow, dirty oily residue and salt are dragged into your home and on to your beautiful marble, limestone, granite and travertine floors. Dirt, oil, water and salt can damage your floors during the winter months.
One way to protect your floors is to place large mats around your home.  A large mat with vinyl or rubber backing in front of your door will protect the floor as people enter your home. You can also put mats outside of your doors. This gives double protection from snow, salt, oil and dirt. Industrial grade mats can absorb or repel water and give added protection from salt and dirt.
Be sure to take your shoes off at the door and ask your guests as well when entering your home. This will help greatly to protect your floors. Blot any water immediately with a soft dry cloth. Blot dry salt from floor with a mixture of water and a drop or two of a mild dish soap using a sponge or soft mop head and dry with a soft cloth. You don't want to sweep the dried salt as it may hurt the floors finish. Washing your floors once a week will help to wash away any areas of salt that may have been missed. Break any oils or greaser down with dishwashing soap and warm water with a sponge.
Let's hope Old Man Winter doesn't want to wear out his welcome.
---
This Holiday season, you shouldn't have to stress about getting ring marks on your beautiful Carrera White Marble counter tops or etching your elegant Black Granite kitchen island.  By following a few simple steps, you will preserve the beauty of your natural stone for many holidays to come.
• Keep coasters handy at all times and use them under all glasses, especially those containing alcohol or citrus.  Put trivets under dishes. This will help prevent those pesky ring marks.
• Spills are usually unavoidable, especially with kids around.  Be sure to blot the spill immediately with a paper towel.  Don't wipe the area, as it will spread the spill. If a stain occurs, wash the area with mild soap dish and cold water, hot water will make a stain worse, and dry with a clean cloth.
• A common step many people take is having their stone sealed.  Sealing your counters won't make them stain proof, but will add an extra layer of protection by making them more resistant to staining.  We recommend using a water-based sealer that is non-toxic.
• Remember that Marble is a calcareous stone, which means it is sensitive to vinegar and acids.  Using festive holiday runners as well as coasters and trivets will not only add to the festivities, but will provide some extra protection on your counters.
We will be glad to send you our Care and Cleaning of Natural Stone booklet for more tips on identifying and removing stains, as well as extra precautions to take.   Give us a call today!
---