Sungloss Marble Terrazzo Polishing Team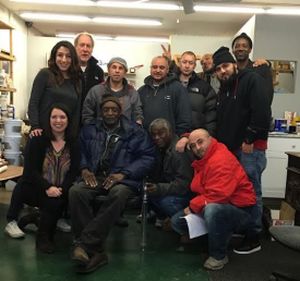 Specializing in the polishing, wet grinding – which creates no dust-cleaning, honing and sealing of natural stone surfaces in the Chicagoland area.
A member of the Marble Institute of America, National Association of the Remodeling Industry, and the Better Business Bureau, among others, Sungloss is committed to the professional servicing of stone surfaces such as walls, countertops, floors and facades for commercial, residential and post-construction customers.
Sungloss Marble Co. News & Advice
I had both the pleasure and the unique industry experience to visit and see the renowned Multnomah County Library in Downtown Portland, OR in early August recently. The Library (website :multcolib.org ) is active, involved and has a great collection of books and electronics… AND, it has the most unique, beautiful set of Black Granite Stairs, carved in artistic design […]
>>Read more
---
Image shows before and after of Historical 100 year old Belgian Black Marble – which is difficult to polish.  Look at that POP!  No wax – all diamonds.
>>Read more
---
As long as I've been in the industry of restoring, renewing and refinishing Granite, Marble, Terrazzo, Limestone, Slate or other natural stone, it never ceases to amaze me where one will find a historical connection to natural stone.  A 2 1/2 hour drive from Jefferson Park in Chicago and we found the Redgranite Quarry in […]
>>Read more
---