Sungloss Marble Terrazzo Polishing Team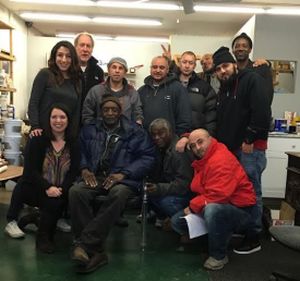 Specializing in the polishing, wet grinding – which creates no dust-cleaning, honing and sealing of natural stone surfaces in the Chicagoland area.
A member of the Marble Institute of America, National Association of the Remodeling Industry, and the Better Business Bureau, among others, Sungloss is committed to the professional servicing of stone surfaces such as walls, countertops, floors and facades for commercial, residential and post-construction customers.
Sungloss Marble Co. News & Advice
Humidity is a common term associated with warm seasons in Chicago.  As temperatures rise during the spring and summer often do, so do precipitation and humidity levels.  Unlike temperature, which fluctuates during the day and night, dew points tend to remain constant no matter what hour it is.  High humidity levels tend to occur from […]
>>Read more
---
According to a recent survey conducted by Professional Builder, 66.4% of buyers today consider the "curb appeal" of a building (or home) as a top selling point when purchasing.  This was followed by low maintenance costs (59.4%) and energy efficiency (32.9%).  45.5% of sellers have had the most success in selling by upgrading the exterior […]
>>Read more
---
Our very own Mike Pavilon, president of Sungloss Marble, made a recent visit to the Coldspring headquarters in Minnesota to catch up on the latest trends in the stone industry.  More to come!
>>Read more
---