| | |
| --- | --- |
| The Complete Stone Restoration Co. | Call Us (773) 685-2500 |
Posts Tagged 'natural stone'
|
Wednesday, June 26th, 2013
You don't need to travel to Europe to find natural stones. With the tap of your finger
you can see beautiful stones of North America. Dozens of marbles, granites and other
natural stone samples.
locally sourced stone, the specification details you need, and the high resolution images of
completed projects. Good for consumer or Architect or Designer.
The download offers information on the Marble Institute of America, a guide for installing stone,
different technical articles and guides and a care and maintenance section in which 3 members of
the
Sungloss
Marble team are involved in updating/upgrading change to the Restoration Handbook
in 20+ years!
Tags: Ipad, Local Stone, natural stone
Posted in Natural Stone And Tile | No Comments »
Tuesday, April 23rd, 2013
The "Eight Beatitudes" of keeping your natural stone beautiful (the way it should be).
For building managers, developers, homeowners and designers.
1. Choose your stone wisely – don't mix granite with marble with wood with metal interspersed, unless you want to spend big money with maintenance and aftercare, probably substandard. The care, smaller machinery and various methods make those intertwined materials a "restorer's nightmare".
2. Inconsistent luster is not always bad – some limestones and marbles have varying density patterns that make it impossible to polish evenly and look like "ceramic".  Some have natural artistic patterns unique to stone.
3. Take care of spills before they stain! Calcite based stone like marble and limestone will stain regardless of whether they are sealed when acid (of most any kind) lay on the surface.  Blot, don't wipe, the spill ASAP to prevent damage to the stone surface.
4. Minerals like iron and copper exist in lots of different stone – especially the white marbles and white granites – these minerals, iron being the biggest "culprit", can oxidize (rust) when moisture sits on the surface or between the grout lines, etc. for any period of time.
5. Is there a "Black Granite"? Some say NO! – that all black granites are really a form of marble or a mixture of stone and minerals, e.g. carbon.  Some geologist say there are exceptions, but, regardless, there are thousands of instances where black granites will lose their color and "stain" very much like marble.  Beware of losing beauty.
6. Don't wax on stone!  Unless you want to manage a very meticulous and regular and careful programme of stripping, allowing to breathe and redoing after one week of allowance, waxing only the tiles, slabs and NOT the grout lines as the grout will absorb the wax and get damaged in the process, discolored, etc.
7. Choosing counters and Bar tops! The Tough Granites are the better choices of the group, but Green Marble, White Carrara and Statutory White are not bad if the color is a crucial issue along with the veining / movement.  Our seals ARE getting better each year (go to www.marble-institute.com for the limits on sealing, etc).
8. Think, call a professional for "advise", research on the internet, go to www.-marble-institute.com consumer homepage, and shop around.  It will save you money, time and aggravation later.  Believe me – been there, done that.
Tags: maintenance, Marble, natural stone, stone care
Posted in Natural Stone And Tile | No Comments »
Tuesday, November 27th, 2012
Sealing And Protection Of Your Natural Stone, Marble, Terrazzo & Limestone
Many a store and hotel manager, aside from the housewife and househusband, has been stymied and frustrated at the inability of being able to protect natural stone surfaces with sealants that would stop the "etching" and staining of the surfaces.
Now, after decades of trial and error, false claims and false promises of products, Sungloss Marble Company has researched and discovered a way to increase the protection with environmentally friendly sealant on the surfaces of calcium carbonate (marble, limestone, etc.); Matte finishes; Satin and High Gloss finishes which can all be protected much better – albeit not completely – from tomato paste, coke, coffee, lemon & lime juices and the like in the kitchen or in the bathroom, or in the lobbies of hotels and buildings.
A new, improved, penetrating and surface-protecting seal that is non-flammable, non-hazardous and VOC compliant is now the best to use to protect Limestone, Marble and Terrazzo surfaces.
Ask your representative at Sungloss Marble Company or their national association: www.marble-institute.com
Tags: Cleaning, granite polishing, Limestone, maintenance, natural stone, stone care
Posted in Natural Stone And Tile | No Comments »
Wednesday, October 3rd, 2012
Now that the election for the next President of the United States is nearing – along with the myriad of Senatorial
and other races, the consumer might be surprised at the use and restoration of natural stone in and around the regional visits of various candidates.
In fact, the recent NATO Conference brought Sungloss Marble Company into several downtown Chicago locations for professional restoration of granite facades, marble polishing of floor and table/counter areas…and other natural stone surfaces, including Limestone, Slate, Soapstone, Bluestone, flamed Granite, sandblasted Granite and more.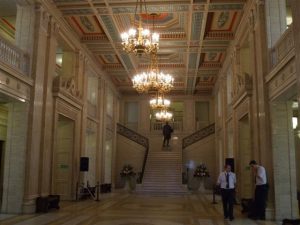 We've observed that officials like to be surrounded by pleasant and "royal" looking surroundings, with marble and granite being two of the most popular choices.
When marble is deep cleaned, polished to a high gloss, sealed and then buffed, it gives off an atmosphere of an "upbeat, positive feeling" — with some suggesting that it helps the officials and candidates in their quest for power.
How do you feel when you enter the heavily marbled Supreme Court building, or find yourself surrounded by the impressive granite counters of Police Headquarters or the Stone Clad Pentagon building?
Like royalty right? Or powerful perhaps, accomplished, authoritative, etc.
Of course, Corian just won't cut it.
In the right places and at the right angle, with the right colors and luster, marble and granite and terrazzo can be used in the home in a much less authoritative, yet eye-catching and softer way with the help of a Designer or Architect who knows all about natural stone surfaces.
Corian won't cut it here, either – but you'll need help deciphering your natural stone selections.
Call Sungloss Marble Company today and we'll get you to the right Designer or Architect.
Tags: buildings, Granite and Marble, natural stone, Restoration
Posted in Natural Stone And Tile | No Comments »
Wednesday, August 29th, 2012
THE RESTORATION, RECYCLING AND RENEWAL OF MARBLE – As A Way To Help Save the Planet
While Improving Your Curb Appeal, Selling Your Home Or Building
Yes, this is NOT a "spin" (we actually don't spin marble tiles!) the restoration of marble and other natural
stone vs. the quarrying, cutting, transporting, fabricating, re-transporting, installing and waste disposal
of the same….there is NO doubt in any one's mind that we save a "ton" of energy by restoring vs. re-installing.
Climate deniers who pretend that there is NO human input to the way the world is warming up and
radical climate changes taking place need a reality check. Check in here, please…
For, in fact, July, 2012 has been the hottest month ON RECORD SINCE THE U.S. BEGAN KEEPING
RECORDS IN 1895…And, its only going to get warmer…unless we do something.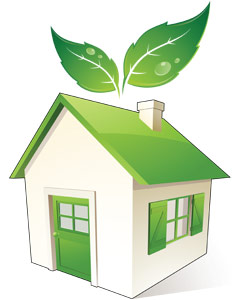 Intelligent men and women of the 21st Century want to present their homes in the best, possible condition – with good, solid "curb appeal." Curb Appeal really means all those things, views of the property and its appendages that catch the "eye" of the potential buyer of the home or building as they enter…not just from the street/curb!
Natural Stone – marble, granite, slate, limestone, onyx, terrazzo (i.e. marble chips set in limestone based cement and poured into sections) and even limestone based concrete is often one of the most significant eye appealing items of high end homes and buildings whether they be marble entries, lobbies
or verandas. The marble and/or granite, etc. must be clean, clear  polished or honed correctly and sealed for some protection. Go to our national association site: www.marble-institute.com site to find out more.
Join in the environmental movement – be you Republican, Democrat, Independent or 'drop-out'…Restore your natural stone – save it and the environment…NOW! And, sell your building or home for a better price!
And, you'll be saving a ton of energy, $$$ and pollution.
Tags: Business, floors, Granite and Marble, natural stone, renovation, Restoration
Posted in Green Mission | No Comments »
Friday, August 3rd, 2012
Basics of Marble And Natural Stone Tile Ownership
Part 1: Why acids damage your beautiful marble.
As it relates to natural stone tile and other precious surfaces, you may wonder why you see dull spots on your marble around the sink, dull ring marks that match the shape of your favorite highball glass, or marks on your bathroom vanity that mirror your mouthwash bottle….. All of these "normal wear and tear" marks are completely preventable — we call them etches. And no, you don't have to put doilies or rugs over all of your stone in order to protect it either.
A little information goes a long way…
Acids are the main culprit creating the dull spots on natural stone. So what is the source of the acid that is leaving a mark on my stone, you ask?
A few common items containing acids that might leave an etch mark on your marble include:
Food items: citrus of any kind, many juices, vinegars, wine, beer, liquor, many sodas, tannic acids in tea, coffee, tomato….
Cleaning products: Vinegar of any kind, products meant to remove calcium, lime and hard water deposits, and soap scum; most regular household cleaning products. READ the FINE PRINT on the bottle – you might be surprised how many containers say DO NOT USE ON MARBLE or other calcareous (i.e. chalky) stone like limestone, travertine, etc.
Cosmetic Items: Acidic face washes, zit cream, toner, perfumes, to name a few. Saline solution may also have an etching influence on marble.
Other Acids: Urine, vomit… (households with young children be aware!)
So what do I do? Cleaning natural stone seems complicated!
How to clean marble? A few small tips will get you started for a long lasting lustrous appearance to your natural stone.
Sungloss Marble Co. believes that the best way to take care is to be informed. Severely etched natural stone tiles will require the services of a marble finishing company to do the marble polishing.
Preventing contact of acid with your limestone, marble, travertine, etc. is the number one step. Use a large cutting board in the kitchen for preparing acid foods. Place your cocktails on coasters and set up your bar on a large tray when hosting a party.  Place a decorative tray on your bathroom countertop to serve as a "home base" for all the toiletries you use most often.
Stay tuned for more tips and future care ideas! If you like what you read today, please email us for a complimentary Marble Care Educational Booklet from the Marble Institute Of America!
Yours Truly,
Lisa Park
Tags: Cleaning, granite polishing, marble polishing, natural stone
Posted in Natural Stone And Tile | No Comments »
Friday, May 29th, 2009
I was curious about how marble is recycled—it is a natural product we work with every day, but don't often realize how sustainable it is as an architectural material. A brief Google search produced a few webpages, some unexpected topics on marble reclamation:
A story from Emory University about recycling marble flooring in a historic restoration…there is a nice picture toward the bottom (link). (more…)
Tags: maintenance, Marble, natural stone, reclamation, refinishing, stone recycling
Posted in Green Mission, Uncategorized | 1 Comment »
|
Visit us on...




Testimonial
"Whether it's a simple repair or what seems to be the impossible, Sungloss always provides consistent, professional results."– Stoneworks, Inc.
Green Oriented

Sungloss Marble Co. is helping preserve the environment.