| | |
| --- | --- |
| The Complete Stone Restoration Co. | Call Us (773) 685-2500 |
Posts Tagged 'Marble'
|
Tuesday, April 23rd, 2013
The "Eight Beatitudes" of keeping your natural stone beautiful (the way it should be).
For building managers, developers, homeowners and designers.
1. Choose your stone wisely – don't mix granite with marble with wood with metal interspersed, unless you want to spend big money with maintenance and aftercare, probably substandard. The care, smaller machinery and various methods make those intertwined materials a "restorer's nightmare".
2. Inconsistent luster is not always bad – some limestones and marbles have varying density patterns that make it impossible to polish evenly and look like "ceramic".  Some have natural artistic patterns unique to stone.
3. Take care of spills before they stain! Calcite based stone like marble and limestone will stain regardless of whether they are sealed when acid (of most any kind) lay on the surface.  Blot, don't wipe, the spill ASAP to prevent damage to the stone surface.
4. Minerals like iron and copper exist in lots of different stone – especially the white marbles and white granites – these minerals, iron being the biggest "culprit", can oxidize (rust) when moisture sits on the surface or between the grout lines, etc. for any period of time.
5. Is there a "Black Granite"? Some say NO! – that all black granites are really a form of marble or a mixture of stone and minerals, e.g. carbon.  Some geologist say there are exceptions, but, regardless, there are thousands of instances where black granites will lose their color and "stain" very much like marble.  Beware of losing beauty.
6. Don't wax on stone!  Unless you want to manage a very meticulous and regular and careful programme of stripping, allowing to breathe and redoing after one week of allowance, waxing only the tiles, slabs and NOT the grout lines as the grout will absorb the wax and get damaged in the process, discolored, etc.
7. Choosing counters and Bar tops! The Tough Granites are the better choices of the group, but Green Marble, White Carrara and Statutory White are not bad if the color is a crucial issue along with the veining / movement.  Our seals ARE getting better each year (go to www.marble-institute.com for the limits on sealing, etc).
8. Think, call a professional for "advise", research on the internet, go to www.-marble-institute.com consumer homepage, and shop around.  It will save you money, time and aggravation later.  Believe me – been there, done that.
Tags: maintenance, Marble, natural stone, stone care
Posted in Natural Stone And Tile | No Comments »
Tuesday, July 17th, 2012
THE RELIABILITY AND HONESTY OF MARBLE, TERRAZZO AND NATURAL STONE CARE REFINISHING COMPANIES
A lot has been said and written about contractors, construction companies and roofers regarding the integrity of their services — rumor has it that some will do anything to get a job, and some of your cash flowing their way….
Lou Manfredini, WGN televisions's Mr. Fixit, recently interviewed a reporter who followed several HVAC contractors through their  "sales process" and found all six to be either outright lying, deceptive or simply inaccurate in their assessments of new Air Conditioning units or parts!
Sad to say that.
We, at Sungloss Marble Company, are committed to an honest and reliable process from the start. We endeavor to be completely straight with potential and current customers about the honing, refinishing, polishing and sealing of their natural stone and tile – including the only partly successful sealing process (per the Marble Institute of America).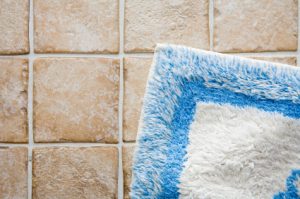 Excellent results with your natural stone and tile restoration begins with clear expectations.
We want our first time customers to return so our focus is on managing expectations, developing a trusted relationship and a good reputation, aside from the value issue of "simply being accurate and telling the truth of the matter."
Marble, Terrazzo, Granite, Slate, Limestone and even limestone-based concrete can be finicky and sensitive to 'etches,' stains and natural discolorations. We try to tell people this fact upfront and do what we can to get the stone in the condition the customer wants so that they enjoy the results.
There are limitations to what we do as a restoration and natural stone restoration and refinishing company — that is just a fact. But we, again, do all we can with 20+ years of experience under our belts to satisfy the customer.
Satisfaction is bred by education, so we send our customers both a written "AfterCare Sheet" for their stone surfaces AND try to put them in contact with the consumer page at www.marble-institute.com
We want the very best results for our natural stone and tile restoration customers — compromises just won't cut it.
Our very best,
—
Mike Pavilon
President
Sungloss Marble Company
Tags: Marble, refinishing
Posted in Natural Stone And Tile | No Comments »
Friday, February 24th, 2012
At Sungloss Marble Restoration, we are very high on educating our customers, and have been for over 22 years. The more our customers know about the stone restoration options we can offer them, the more informed they can be when choosing how to beautify and raise the curb appeal of their property, condo, or home.
Natural stone restoration services we bring to the table include color enhancement, honing, polishing (satin or high gloss), grout cleaning, sealing, lippage removal, stone and tile cleaning, and more. We serve any and all customers who have natural stone (or even concrete) and need to make it cleaner, brighter, or last longer. Our clients range from homeowners all over Chicagoland, to large high-rise office and residential buildings in the Loop, to State and Federal buildings, to developers and construction companies looking to enhance their new construction projects (or fix a prior contractor's goof!).
Architects and designers have hired us in LEED certification projects because of our dedication to restoring and reusing stone, knowing it saves more water and resources to beautify existing stone installations than install new ones.
In the spirit of education, our sales and office reps go the extra mile to help customers understand how to achieve the most restoration for the value. We can assist with planning cost-savings maintenance plans, also. This blog exists to educate and inform our customers about everything we can do with their marble, slate, limestone, terrazzo, granite, bluestone, onyx, ceramic, porcelain, and concrete floors, bathrooms, kitchens, lobbies, foyers, walls, countertops, and anything else made of stone!
We are happy for our Sales rep and blogger John Leonard, who is leaving us soon, and grateful for the thoughts and experiences he's shared over the years on these pages. John responds:
Thank you to all the customers and readers for engaging in our natural stone dialogue. There have been exciting Green developments in our industry recently that I want to bring focus to. The U.S. Green Building Council has more validity in our business than ever before. Stone restoration in a renovation project is a way to achieve LEED points. The stone sealers and restoration products we use have the least environmental impact in the ten years I've been in this line of work, and that's very reassuring as well. But most of all, I think the beautification and value we bring to our customers is deeper than ever. It has been a great experience to support and to be associated with the Vision of Sungloss Marble Restoration Company, and it will be close to my heart in my future endeavors.
Tags: Cleaning, granite polishing, grout cleaning, LEED, Limestone, Marble, marble polishing, refinishing, renovation, Slate
Posted in Natural Stone And Tile | No Comments »
Monday, August 10th, 2009
We are proud to have been part of a recent office renovation project in the office space of Perkins+Will, a premiere architectural firm in Chicago. Through Pepper Construction, our work included cleaning and restoring existing slate flooring with earth-friendly products. The slate was then color-enhanced and sealed with a low-VOC, water-based sealer. This project was awarded a LEED Platinum CI certification last month (link), and is one of four Platinum CI certifications in Chicago (link) (more…)
Tags: Cleaning, Granite, Green, LEED CI, Limestone, Marble, Restoration, Slate
Posted in Green Mission, Uncategorized | No Comments »
Tuesday, July 7th, 2009
We recently read an interesting study at Greenseal.org (link) which finds that despite the recession, 4 out of 5 people are continuing to buy green products and services today. This shows the reach of the green movement and also the power of consumers to tip the scale towards change. It tells us there are two ideas converging—the idea that acting to sustain our resources transcends money, and the idea that green products and services should cost no more than the former 'non-green' ways. Sungloss Marble Company is very exited about the study findings. We have been striving to be green in our product choice and work procedures for almost two decades now. Our customers mostly have come along with us in our enthusiasm, but overall it has been a slow rate of education and support. But now, it seems the green tide is washing over the majority of homeowners. (more…)
Tags: certification, Green, LEED, Limestone, Marble
Posted in Green Mission, Recession Update and Stone Refinishing, Uncategorized | No Comments »
Thursday, June 11th, 2009
Sungloss Marble Company has recently been involved in projects where businesses or municipalities have desired a LEED certification. With all the excitement and interest in LEED, I thought I'd touch generally on what that means. We'll have more specifics on the individual projects in future posts. (more…)
Tags: floors, LEED, Limestone, Marble, polishing, renovation, walls
Posted in Green Mission, Uncategorized | No Comments »
Friday, May 29th, 2009
I was curious about how marble is recycled—it is a natural product we work with every day, but don't often realize how sustainable it is as an architectural material. A brief Google search produced a few webpages, some unexpected topics on marble reclamation:
A story from Emory University about recycling marble flooring in a historic restoration…there is a nice picture toward the bottom (link). (more…)
Tags: maintenance, Marble, natural stone, reclamation, refinishing, stone recycling
Posted in Green Mission, Uncategorized | 1 Comment »
Wednesday, May 13th, 2009
In the current atmosphere of financial uncertainty, homeowners may find themselves putting off all but the most critical contractor work. There are a few things to think about when deciding to postpone stone restoration. We've seen a whole range of stone wear, and some circumstances warrant more concern than others. High traffic or what I call 'high abuse' areas, particularly where water is present (bathroom vanities, bathroom floors, showers, and kitchen floors or countertops), tend to require more maintenance and upkeep. These areas will almost always have a dirty, mottled, or etched appearance after a cycle of regular use, which will only get worse in time. They would be my first priority. That being said, with proper home care and cleaning, the intervals between professional visits can be lengthened. Proper home care is another blog entry in itself, but the Marble Institute of America's page on cleaning is a starting point (http://www.marble-institute.com/consumerresources/care.cfm). Some areas in the house that see less use might only need "well-care" (i.e. periodic re-sealing), which would be a lower priority, one to come back to during the next cycle of maintenance. (more…)
Tags: budget, maintenance, Marble, marble polishing, stone care
Posted in Recession Update and Stone Refinishing, Uncategorized | No Comments »
|
Visit us on...




Testimonial
"Whether it's a simple repair or what seems to be the impossible, Sungloss always provides consistent, professional results."– Stoneworks, Inc.
Green Oriented

Sungloss Marble Co. is helping preserve the environment.