Wednesday, February 26th, 2014
It seems every condo or commercial lobby you walk into in the metro area of Chicago has taken a real beating this winter.  The constant foot traffic in and out of the buildings has only added to the dull and dirty look of these once- pristine looking lobby floors.
Residents, employees and guests drag in snow melt, oil from the CTA, grease, dirt  and pollution droppings that become embedded in your marble, terrazzo, and concrete, salt that can scratch your limestone and travertine floors.  You may be experiencing this with the floors in your home.  Although mats and carpet runners help, they are not the complete answer.
With more snow and cold coming in the next few weeks, you may want to think about getting that date for a pro to come and "spruce up your lobby floors" for the upcoming spring. The pros are busy, busy in the midst of spring time.
Want more information on "winter wear" of marble, granite, limestone , terrazzo, etc?  Visit the Marble Institute of America website, our international stone association.
Tags: buildings, Cleaning, floors, Granite and Marble, maintenance, stone care
Posted in Stone Care | Comments Off on Winter Weather and Complete Stone Restoration
Wednesday, October 3rd, 2012
Now that the election for the next President of the United States is nearing – along with the myriad of Senatorial
and other races, the consumer might be surprised at the use and restoration of natural stone in and around the regional visits of various candidates.
In fact, the recent NATO Conference brought Sungloss Marble Company into several downtown Chicago locations for professional restoration of granite facades, marble polishing of floor and table/counter areas…and other natural stone surfaces, including Limestone, Slate, Soapstone, Bluestone, flamed Granite, sandblasted Granite and more.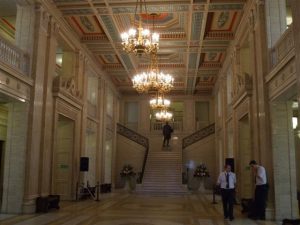 We've observed that officials like to be surrounded by pleasant and "royal" looking surroundings, with marble and granite being two of the most popular choices.
When marble is deep cleaned, polished to a high gloss, sealed and then buffed, it gives off an atmosphere of an "upbeat, positive feeling" — with some suggesting that it helps the officials and candidates in their quest for power.
How do you feel when you enter the heavily marbled Supreme Court building, or find yourself surrounded by the impressive granite counters of Police Headquarters or the Stone Clad Pentagon building?
Like royalty right? Or powerful perhaps, accomplished, authoritative, etc.
Of course, Corian just won't cut it.
In the right places and at the right angle, with the right colors and luster, marble and granite and terrazzo can be used in the home in a much less authoritative, yet eye-catching and softer way with the help of a Designer or Architect who knows all about natural stone surfaces.
Corian won't cut it here, either – but you'll need help deciphering your natural stone selections.
Call Sungloss Marble Company today and we'll get you to the right Designer or Architect.
Tags: buildings, Granite and Marble, natural stone, Restoration
Posted in Natural Stone And Tile | No Comments »